Four of our Joisey Boyz have made the trek to Road Atlanta for this weekend.
They have met up with the Zapata crew so hooliganism is likely to prevail. From the sound of things, if they want to return next year, they may have to use assumed names.
Tom reports;
"The track is fantastic, that is it will be if I can figure it out. Very fast, and technical. It comes at you faster, it seems, than you can react."
Here's Tom L., Storm F., Don M. and Steve S. setting up the canopy for their pit area (taken yesterday).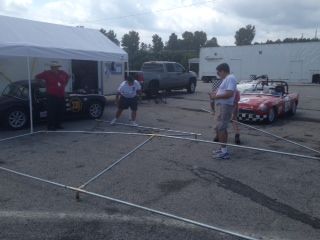 _________________
"Enjoy every sandwich." ~ W.Z.